HOTT Rechargeable CD Player for Car and Home with Bluetooth 5.0, FM Transmitter, 2.1" Screen, 1800 mAh Walkman with 3.5mm AUX Jack and Touch Button Technology, Portable Music Player
* FM Transmitter Sender: You can connect the CD player and your car via FM frequency synchronization. It compensates for the incompatibility of the Bluetooth protocol in some units.
* Bluetooth V5.0 transmitter: The wireless CD player provides a rapid and stable Bluetooth connection and can be easily be paired with Bluetooth headphones or speakers. (NOTE: this item is not compatible with some smartphones and may not be compatible with some car systems Bluetooth. NOT recommend using this Bluetooth in car.)
* 1800mAh Rechargeable Battery: The portable personal CD player comes with a 1800mh lithium battery providing power for approximately 8 hours after fully charged and playing at medium volume.
* ASP: Anti-shock Protection: This small Walkman CD player is designed with Anti-shock Protection, which provides a stable audio experience when moving with up to 45 seconds anti-skip protection for CDs and 120 seconds anti-skip protection for MP3s.
* Backlit and Touch Buttons: Portable CD Audio player with illuminated characters and touch buttons for easy operation, even in the dark.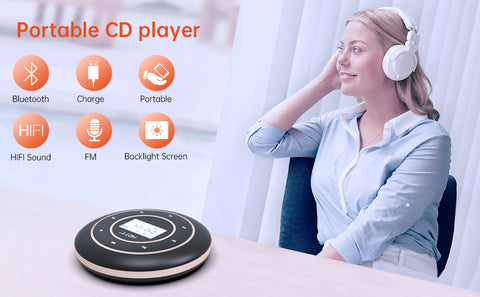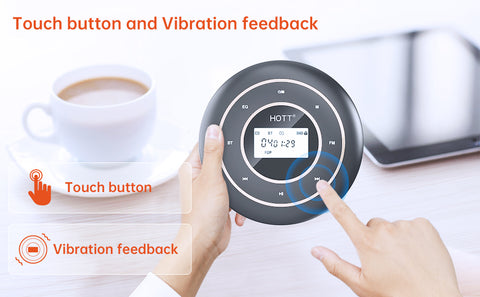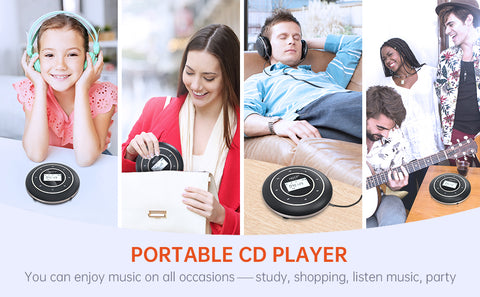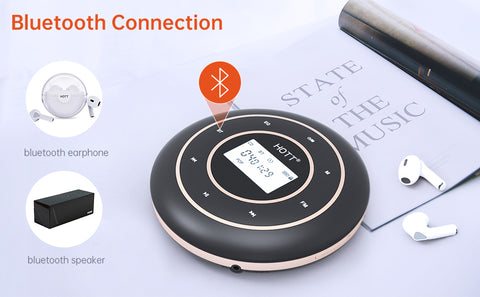 SPECIFICATIONS
Buttons:Touch
Anti-skip Protection: 40 seconds for CD and 120 seconds for MP3
Format Support: CD, CD-RW, MP3, CD-R
Sound Effects: BBS, Pop, Jazz, Rock, Classic
Power supply: 1800mAh rechargeable lithium battery(charged by USB cable)
Display: LCD Screen with backlight
Volume Control: Rotary
Headphones: 3.5 mm
Frequency Response: 20Hz
Signal Noise Ratio: ≥85dB
Package included:
1x HOTT C105 Portable Bluetooth CD Player

1x USB cable

1x Earphone

1x Audio cable

1x User Manual