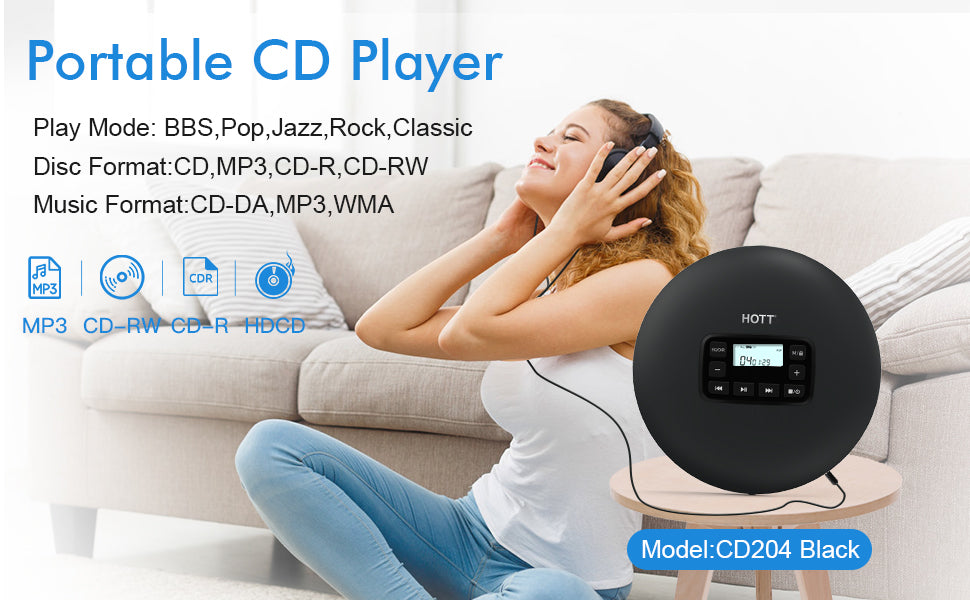 HOTT Portable CD Player, Personal Compact CD Player with Headphones CD204
【High-Quality Surround Sound: 】- HOTT walkman use HIFI decoding technology and latest advanced chip, high bit rate and sampling rate support HIFI lossless sound quality. Fully compatible with stereo earbuds. Offers five sound settings: BBS, Pop, Jazz, Rock and Classical. 3.5mm audio input (AUX) connects with other devices, such as speakers or cars.
【

Anti-shock Protection:

】- 

This small Walkman cd player is designed with Anti-shock Protection, which provides a stable audio experience when moving with up to 45 seconds anti-skip protection for CDs and 120 seconds anti-skip protection for MP3s. It is easy to carry wherever you go so you can enjoy your favorite music anywhere. This CD player tolerates moderate shocks, however severe impacts will interrupt its operation. Not recommend for running or vigorous activities.
【

Surface Mount Technology:

】- 

Over 20 years of professional audio production experience, HOTT is committed to providing high quality, high fidelity portable CD players. Advanced SMT and manufacturing process ensure the stability of recognizing discs. Enjoy CD music anytime, anywhere, at home, on the go, or on the road. Shipped in a high quality gift box.
【

Compatible and User-Friendly:

】- 

Widely compatible with CD, MP3, CD-RW, CD-R formats and WMA audio files from a CD. (Does not support DVD). The front features an LCD display and buttons for playback and other functions. On the side, adjust the volume. It is powered by AA battery cell. There is no built-in battery, so It cannot be charged.
【

Reliable and Top Notch Service:

】- 

We have built a comprehensive complimentary after-sales service system available through by phone, email, and live chat. HOTT CD player provides a 30 day return policy with a 1 year free replacement and lifetime support, to let you buy with confidence. (Register through the official website and extend the warranty period to 18 months)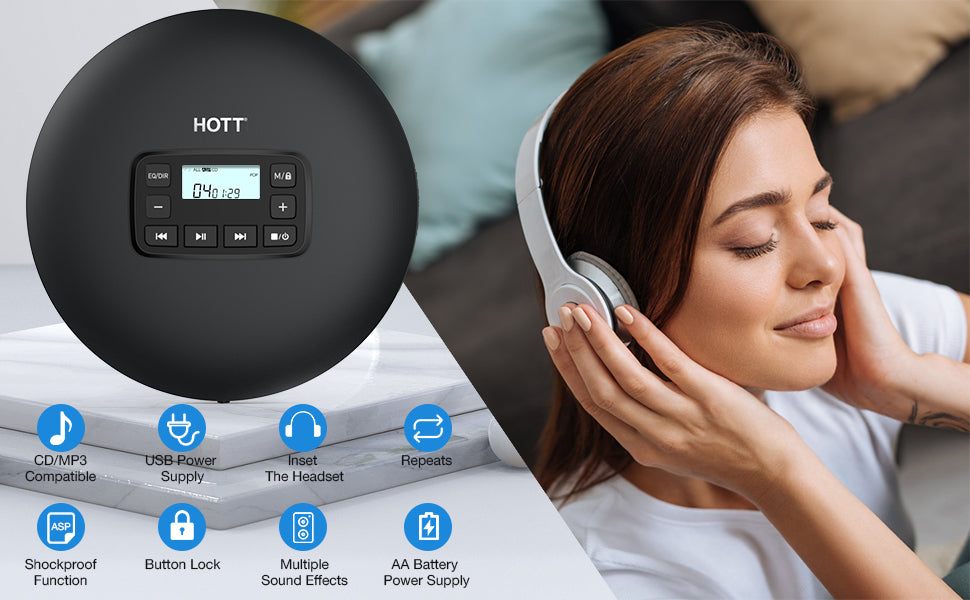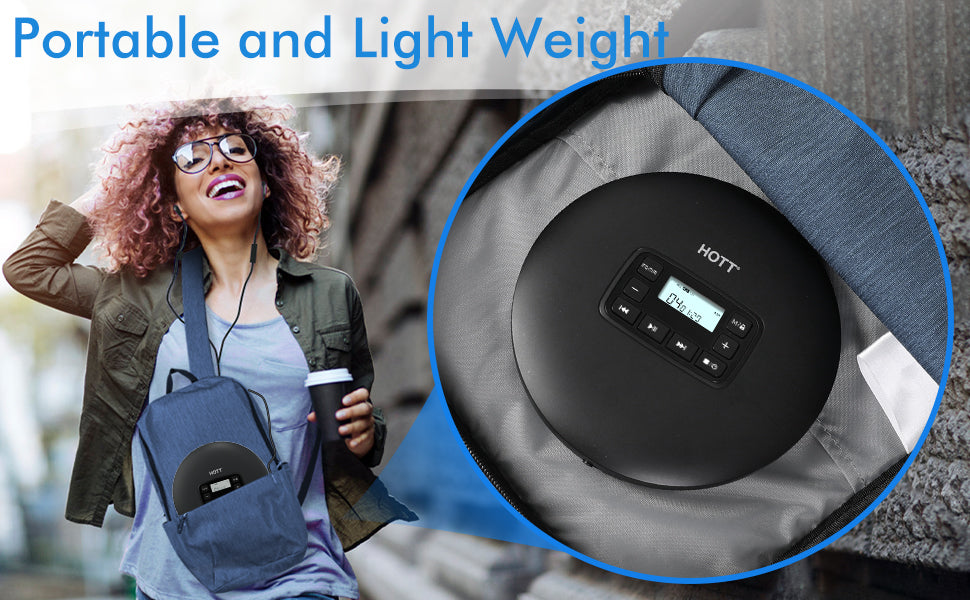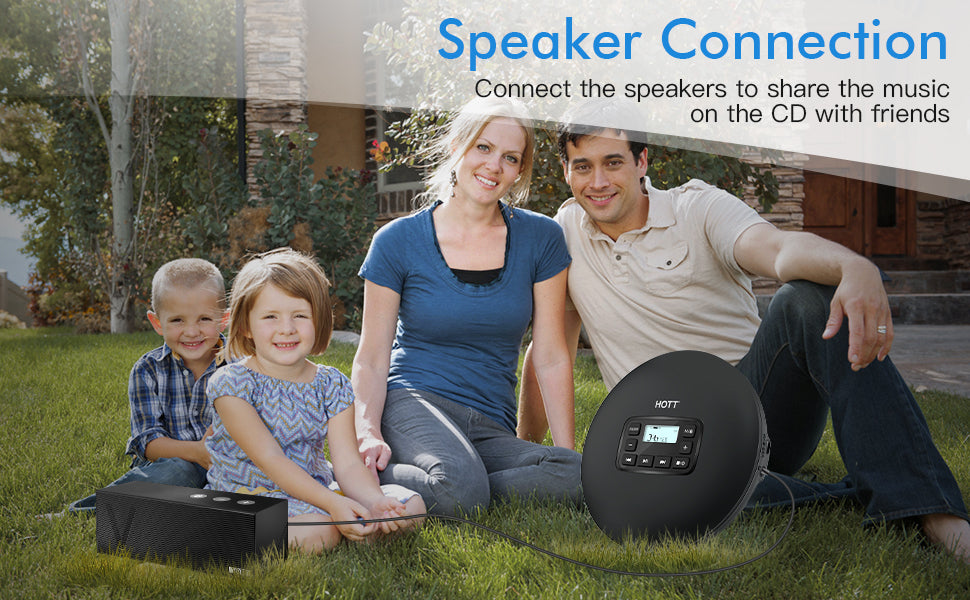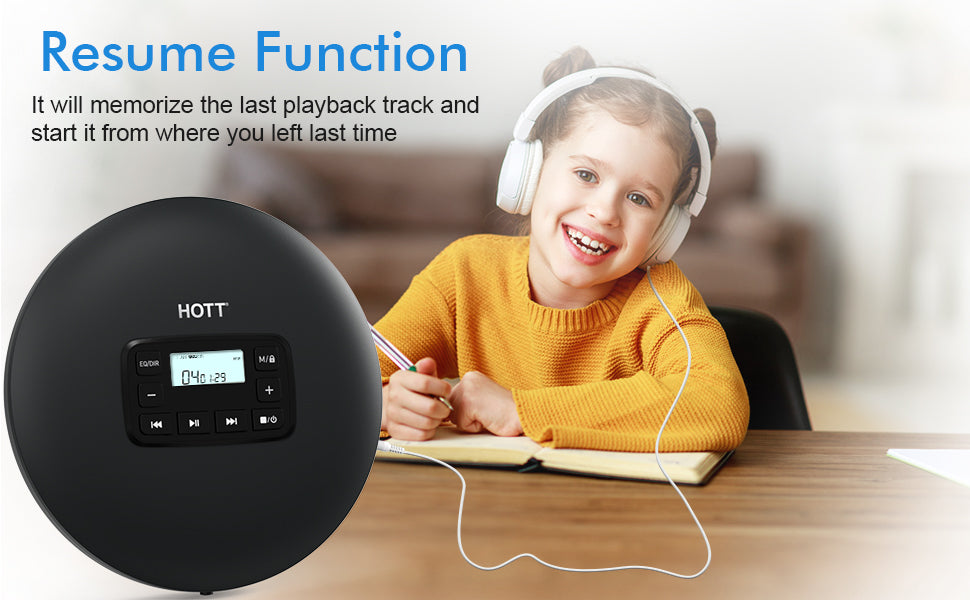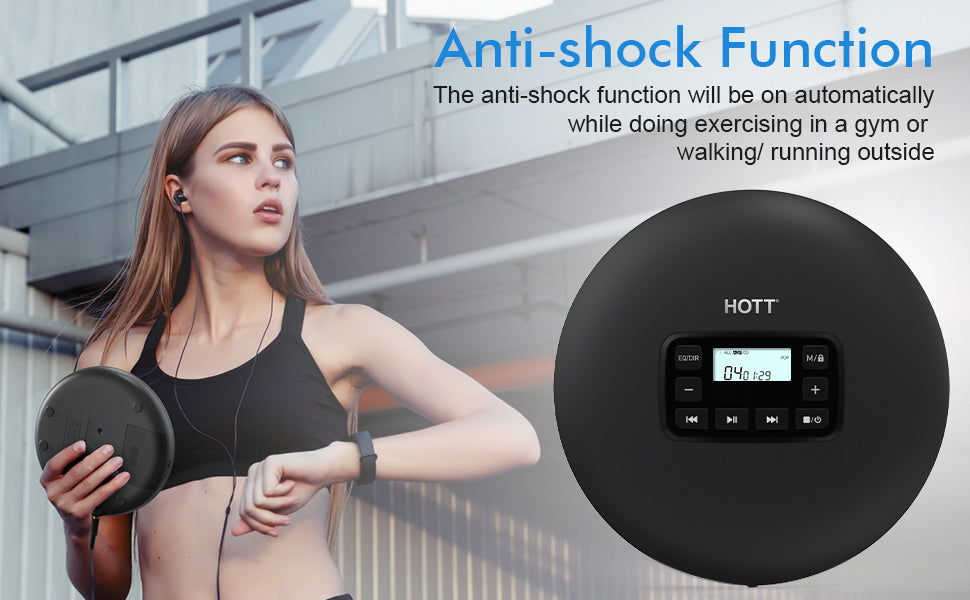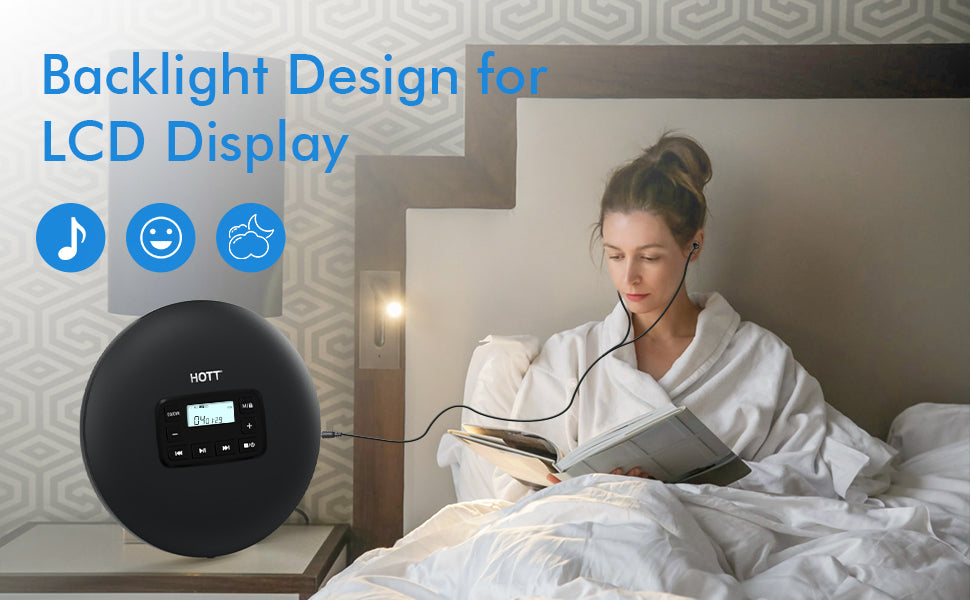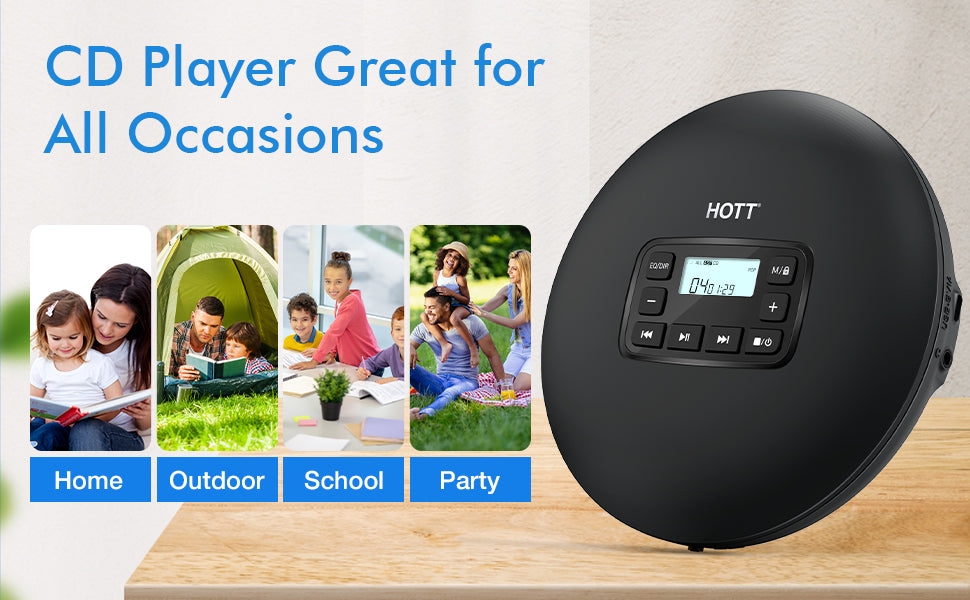 How to Use This Portable CD Player
note1: this item dose not built-in battery, the battery does not comes with package
note 2: it needs a male to male aux cable if you want to use it in car, this cable does not comes with package;
this item dose not have inserted speaker, so you need to use headphonse or connect it with other speaker by aux cable.
Play: Press it twice will turn on the CD player; Press it once will pause when it is playing CD.
Skip Forward: Press it once, it will skip to next song. Press it for a while to change to fast forward.
Skip Back: Press it once, it plays the last song one more time; Press it twice, it will skip back one song
Mode: For you to choose how to play songs, 5 modes included: Single Cycle ("1" means to play the same song all the time), ALL(songs play all in order), INTRO(browse play), SHUF(play in any order).
ASP: Shock-protection(40s) function will be on once you turn on the cd player. When it's playing MP3-CD, ASP function will be on automatically(120s).
DIR: Select the playlist in MP3 mode.

If one of two battery runs out, the cd player can not work either. It requires both AA batteries have power. 
Package Contents:
1 x HOTT CD204 Portable CD Player

1 x 3.5mm Earphone
1 x USB Cable ( this cable only use to supply power. this cd player does not be built-in battery, so it can not storage power.)
1 x User Manual